Professional Butterfly Farming Manual, Videos &
Workshop Papers


PROFESSIONAL BUTTERFLY FARMING MANUAL



The Butterfly Boutique is proud to present the brand new, downloadable ebook, the
Professional Butterfly Farming Manual!
$149,00
Replacing the very popular Commercial Butterfly Breeders Manual and the Advanced Guide to Commercial Butterfly Production in one volume, the Professional Butterfly Farming Manual offers everything you need to know about how to raise healthy butterflies. A must for everyone from absolute beginner to fully operational commercial breeder, the Professional Butterfly Farming Manual has it all.
Written by acknowledged top butterfly expert Nigel Venters and experienced commercial breeder Linda Rogers, with input from guest authors who are expert in their own areas, this comprehensive manual will assist you as you raise your butterflies or grow your business.
Available in downloadable eBook form (PDF) suitable for keeping on your electronic device for instant access, or printing out to store in a binder of your choice.
DOWNLOAD VIDEO FOR HAND PAIRING BUTTERFLIES


Hand-pairing Swallowtail Butterflies - $25.00
Hand pairing butterflies is the best way to manage and control butterfly breeding. See just how easy it is to hand pair Swallowtail butterflies (and other species) in this video presentation.
Available as a downloadable video in a variety of formats.
BUTTERFLY RAISING eBOOKS
from past online workshops - downloadable eBooks in PDF Format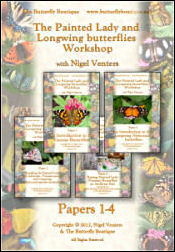 • Painted Lady & Longwing Butterfly Workshop


• Let's Raise Swallowtails!
(Parts 1 & 2)
• The Butterfly Flight House


• Maximum Monarchs & More!